by Mike Bendel on October 9, 2007 @ 4:19 pm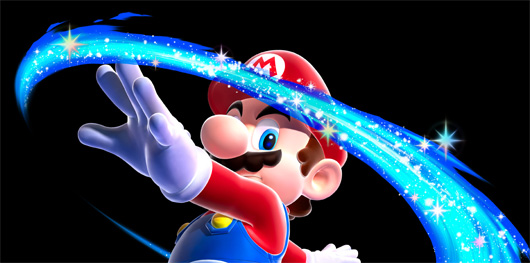 Even though Microsoft or Sony won't be there, E For All sure looks like it'll be a blast. Nintendo revealed today that attendees will get to test drive the much-anticipated Super Mario Galaxy and Super Smash Bros. Brawl, as well as a slew of other Nintendo DS and Wii games.
In addition, Nintendo is hosting a daily Super Smash Bros. Brawl tournament during the event, which runs through October 18 to 22 at the the Los Angeles Convention Center. Competitors will be able to score some free swag, such as free Wii-themed T-shirt.
The game list (which is subject to change) can be found below.
Wii
Super Mario Galaxy
Super Smash Bros. Brawl
Donkey Kong® Barrel Blast
Battalion Warsâ"¢ 2
Fire Emblemâ"¢: Radiant Dawn
Wii Zapperâ"¢ with Link's Crossbow Trainingâ"¢
Mario & Sonic at the Olympic Games
Guitar Hero III: Legends of Rock
Rayman Raving Rabbids 2
Resident Evil®: The Umbrella Chronicles
Medal of Honor Heroesâ"¢ 2
Ghost Squadâ"¢

Nintendo DS
Professor Layton® and the Curious Village
Pokémon® Diamond and Pokémon® Pearl
Flash Focusâ"¢: Vision Training in Minutes a Day
Brain Ageâ"¢: Train Your Brain in Minutes a Day
Brain Ageâ"¢ 2: More Training in Minutes a Day
Mario Party® DS
The Legend of Zelda®: Phantom Hourglass
Nintendogsâ"¢
Mario Kart® DS
New Super Mario Bros. ®
Animal Crossing®: Wild World
Ninja Gaiden: Dragon Sword
Final Fantasy XII
Jam Sessions
WWE SmackDown! vs. Raw 2008
Dragon Quest Monsters: Joker
My Spanish Coach
Follow this author on Twitter.
Read more: EA Has No Active Wii U Titles in Development, Indie Devs No Longer Need Office to Make Games for Nintendo Platforms, Ace Attorney 5 Female Lead Can Read Emotions, Smash Bros. Director Weighs in on Brawl's Online Mode, Shigeru Miyamoto Confident in the Success of Wii U's 'Long Future'