by June 25, 2007 @ 6:50 pm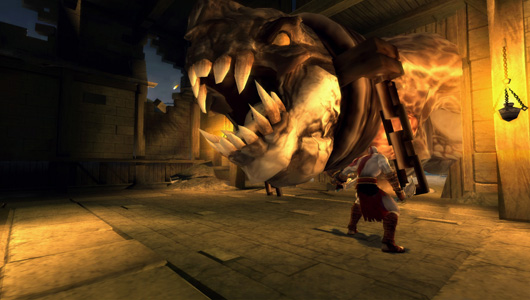 Now we know why Ready at Dawn's upcoming PSP entry in the God of War series is looking so damn good. Developer Cory Barlog has confirmed that God of War: Chains of Olympus will be taking advantage of the enhancements made in firmware 3.50 to use the PSP's full CPU speed – 333 MHz.
Update: Thanks to Kotaku, further clarification from Ready at Dawn pres Didier Malenfant:
Just read your update regarding "GoW: Chains of Olympus" and Cory's comments.

Unfortunately this is completely incorrect and I want to make sure the rumors don't start getting out of control.

EVERYTHING that was shown of "GoW: Chains of Olympus" so far was running at 222Mhz like everyone else. We are planning on having the final game run at 333Mhz but this likely won't be just to improve the graphics which we think are already pretty awesome.

Cory also makes a joke in his post about 1080p on PSP. This, ironically, is not a joke at all. We ARE able to render the game at 1080p if we want to thanks to a feature of the 2.0 version our engine. It doesn't run in real-time but the results look awesome, even with the assets we built for the regular screen size.

Look for a post shortly on our web site to address out the confusion on the CPU speed issue.
So, in a nutshell, 333 MHz is not the reason we've seen these impressive visuals. GoW PSP, up until now, has been running at 222 MHz. However, we can expect things to run smoother and look even more impressive now that the game is clocked at 333 MHz.
Inside the Developers Studio: Follow-up; Cory Barlog [PlayStation.blog]
Follow this author on Twitter.