by November 22, 2007 @ 12:16 pm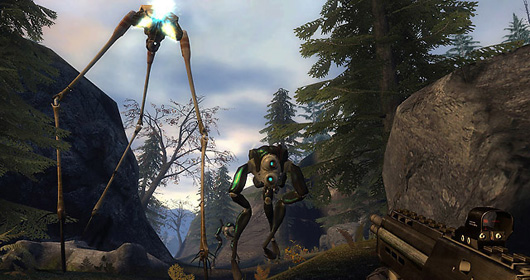 According to 1UP's recent hands-on report on the latest preview build of the PS3 version of The Orange Box, the game suffers from various technical issues that at worst make the game "downright unplayable." David Ellis explains in detail:
Framerate is a consistent issue throughout the Half-Life series of games included in The Orange Box. One moment you'll be cruising through the game at 30 frames per second and the next you'll be enjoying a slideshow of series protagonist Gordon Freeman cruising down the river. However, Portal suffers from no such technical hiccups and is on its way to being a pitch-perfect port of the spatial reasoning exercise. Due to a server connection issue, we were unable to get any time with Team Fortress 2.
Ouch. What's worse is that the PS3 version was delayed for two months after the Xbox 360 release, presumably to iron out minor bugs and get the game running up to speed. Going by 1UP's impressions, they certainly have failed that task on the Half Life 2 side of things.
Thing is, there's not much time to fix up these issues as the game is due for a December 11 release. When you factor manufacturing into the equation EA really only has less than two weeks to get the game running at an acceptable frame rate. That is, unless The Orange Box is delayed again for PS3.
Previews: Half-Life 2: OB [1UP]
Follow this author on Twitter.