by March 22, 2008 @ 5:27 pm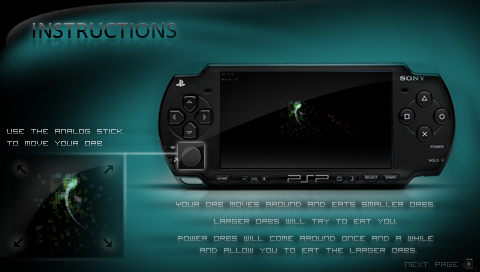 Developer Slasher has updated his flOw-inspired homebrew game Orbid to version 2. In the game, players take control of a tiny orb that must consume smaller orbs in order to survive and grow.
For version 2, the author has added an experimental multiplayer mode in which players can compete against friends online.
Orbid now contains a multiplayer mode for playing online against a friend.
It uses netlib (http://youresam.team-duck.com/netlib/), so you must set up a netlib server in order to use it. Just change the ip.txt in the data folder to the IP of the server you want to connect to.

NOTE: This multiplayer mode is in a very experimental stage. It's in an early beta stage and isn't 100% guaranteed to work. It may or may not work.
[PSP GAME] Orbid V2 [NeoFlash]
Follow this author on Twitter.