by November 10, 2008 @ 11:07 am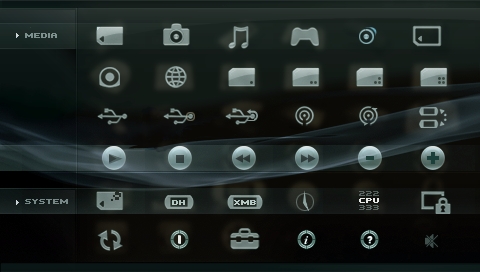 As promised, iR Shell 4.7 is here, bringing with it much-requested compatibility with 5.00 M33 series firmware. Developer AhMan notes that the infrared sensor feature has been revamped for ease of use, no longer requiring the installation of specific pronto codes. Additionally, compatibility with UMD titles over NetHostFS operating mode has been enhanced and it is now possible to directly launch SWF format flash games.
For the full changelog on version 4.7 of this excellent shell replacement for PSP, hit the break.
* Support Dark_AleX latest 5.00M33-3 CFWs. Users of original 5.00M33 & M33-2 should upgrade to M33-3 to avoid incompatibility issues. The latest Popsloader 5.00 is also supported.
* An Infra-Red learning remote is added for PSP Phat. You no longer need to hunt pronto codes for your appliances. Just point your remote unit at the PSP and it will learn the iR code. It is available under higher firmwares and not fw 1.5 mode. Refer to the Release Note for usage details.
* The nethostfs connection handling has been redesigned to be more robust. However, iR Shell 4.7 and onwards can only connect to the new nethostfs PC server v2.1. Make sure you've updated the nethostfs PC server.
* Enhance UMD/ISO game compatibility via nethostfs MAX mode. Most previous failed games will probably work.
* Usbhostfs & nethostfs host redirection under XMB has returned.
* The Adhoc PC connection for nethostfs was broken since fw 3.71. This feature has been brought back for PSP Phat.
* Enhance the HTML Plugin (by Dark_AleX) to allow direct launching of flash games with extension SWF.
Detailed installation and usage instructions can be found in the included readme file.
iR Shell 4.7 Released [iRShell]
Follow this author on Twitter.